About Us
Texas Gas Service is the third largest natural gas distribution company in Texas, providing safe, clean and reliable natural gas to more than 670,000 customers in 100 communities.
Texas Gas Service was formed in 2003 when ONEOK purchased the Texas assets of Southern Union Gas. Southern Union Gas was created in far-west Texas in the 1920s and acquired properties in El Paso, Austin, the Rio Grande Valley and other regions of Texas now part of today's Texas Gas Service territory. Texas Gas Service has an 80 plus-year tradition of utility service to customers throughout Texas.
Texas Gas Service is a division of ONE Gas, Inc. (NYSE: OGS), a natural gas distribution company and the successor to the company founded in 1906 as Oklahoma Natural Gas Company, which became ONEOK, Inc. (NYSE: OKE) in 1980.
ONEOK separated its natural gas distribution business in January 2014 to create ONE Gas, one of the largest publicly traded, 100 percent-regulated natural gas utilities in the United States.
Texas Gas Service is committed to being an organization that strives for excellence. Our industry is evolving. There is greater competition and greater customer choice. These changes will yield exciting new opportunities to serve the customers who have trusted us as their reliable source of natural gas. We value that trust. It's been earned by our employees who have made it their business to satisfy customers year after year.
Safety and environmental performance are our top priorities, and we work hard to deliver natural gas service with no adverse effect on the public, our customers, employees or the environment. So when the Office of Pipeline Safety issued a final rule requiring natural gas pipeline operators to develop integrity management programs for natural gas transmission pipelines located in high-consequence areas, Texas Gas Service created an integrity management program that meets or exceeds the requirements of the integrity management regulations.
Facts At A Glance
Approximate Miles of Distribution Mains and Transmission Pipeline - 10,700
Average Number of Customers - 670,000
Number of Texas Gas Service Employees - 900
Texas' Rank as a Gas Producing State: 1st nationally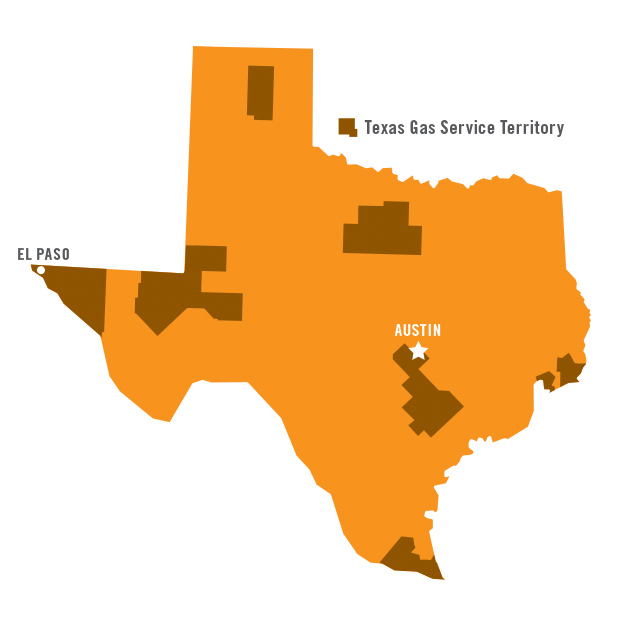 Statistics as of December 31, 2019
Address (payments not accepted at this address) :
Texas Gas Service
1301 S. Mopac Expressway
Suite 400
Austin, Texas 78746
Phone Numbers:
Emergency Only: 800-959-5325 (LEAK)
Customer Service: 800-700-2443
Call Before You Dig: 811