At Texas Gas Service, we have a vision of a better tomorrow – a future where we continue to deliver safe, affordable and reliable energy while reducing the environmental impact on our planet.
Our 2022 Environmental, Social and Governance (ESG) Report outlines our progress toward this vision by highlighting our commitment to safe operations, responsible environmental stewardship, and support of our employees and the communities we serve. The report focuses on our efforts in the following areas:

Environmental Stewardship — Sustainability is at the core of our vision, and we embrace the opportunity to be part of a transition to a carbon-neutral energy future.

Social Responsibility — We are committed to making a difference for our employees, customers and communities.

Corporate Governance & Oversight — Strong, forward-thinking leadership is necessary to create a better tomorrow for our people and our planet.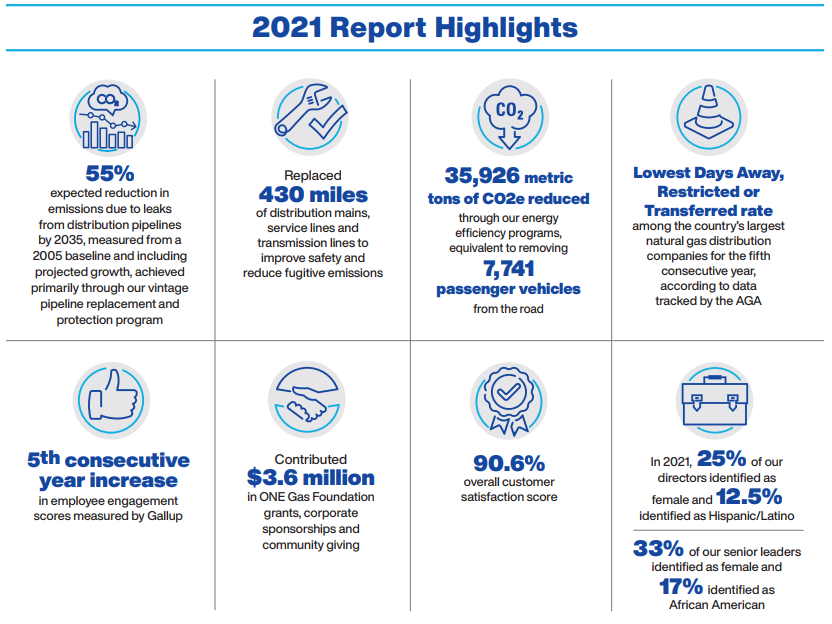 What We're Doing in Texas:
Completed construction on new energy-efficient Austin Service Center East
Partnered with Gas Technology Institute (GTI) and University of Texas at Austin in the H2@Scale hydrogen development project
Contributed to Hays County to support a Regional Habitat Conservation Plan (RHCP) for the golden-cheeked warbler, a federally endangered songbird
Received J.D. Power Award for No. 1 in Customer Satisfaction with Residential Natural Gas Service in the South among Large Utilities
The ONE Gas Foundation donated more than $500,000 across the state of Texas to support education and community enrichment and development
QUESTIONS?
For questions or more details about the programs highlighted, contact
sustainability@onegas.com
.