Be a Dig Hero
HOW CAN I BE A DIG HERO?
Always call 811 before you start your project and dig safely once your project area has been marked.
WHO NEEDS TO CALL 811?
Everyone whose project disturbs the ground (planting a garden, removing trees, installing sprinklers, adding a deck... and so many more) should call 811 at least 48 hours, Monday through Friday, except holidays, before starting your project.
Anyone planning a project involving digging should always call 811 before they dig. This free service can prevent injuries and service disruptions.
To prevent injury, damage, and service outages, it's crucial that underground utility lines be identified and marked before any digging project begins.
Whether you're planting a tree, tilling soil, installing a deck or sprinkler system, or setting fence posts, always remember to call 811 at least 48 hours, Monday through Friday, except holidays, before you dig to allow underground utility lines to be marked.
You can help us protect our lines by being a Dig Hero.
Visit BeADigHeroTexas.com to learn more.
Texas 811 System - Texas 811
One phone call to 811 from anywhere in Texas will route your call to Texas 811, which will alert owners of pipelines, telecommunication cables and power lines to mark their buried assets within at least 48 hours, Monday through Friday, except holidays, of the request. There's no charge to you for this service.
You can submit a ticket to Texas 811 by dialing 811 on your phone, or visiting them online at texas811.org.
Requests usually take less than five minutes but remember that you must call at least 48 hours, Monday through Friday, except holidays, before starting your project to give utility companies enough time to mark their lines.

What Happens After I Call 811?
Operators with underground utility lines near your planned excavation are notified by Texas 811. This includes natural gas and power utilities, communications companies, cities and towns.
Operator crews or subcontractors mark their underground utilities with spray paint or flags. Or they tell you that they have no lines in the area.
Be sure to check your ticket before digging to ensure that all utilities have been notified.
You can recognize the type of line marking by referencing the chart.
A full explanation of state laws and instructions for web-based ticket requests is available on the Texas 811 website.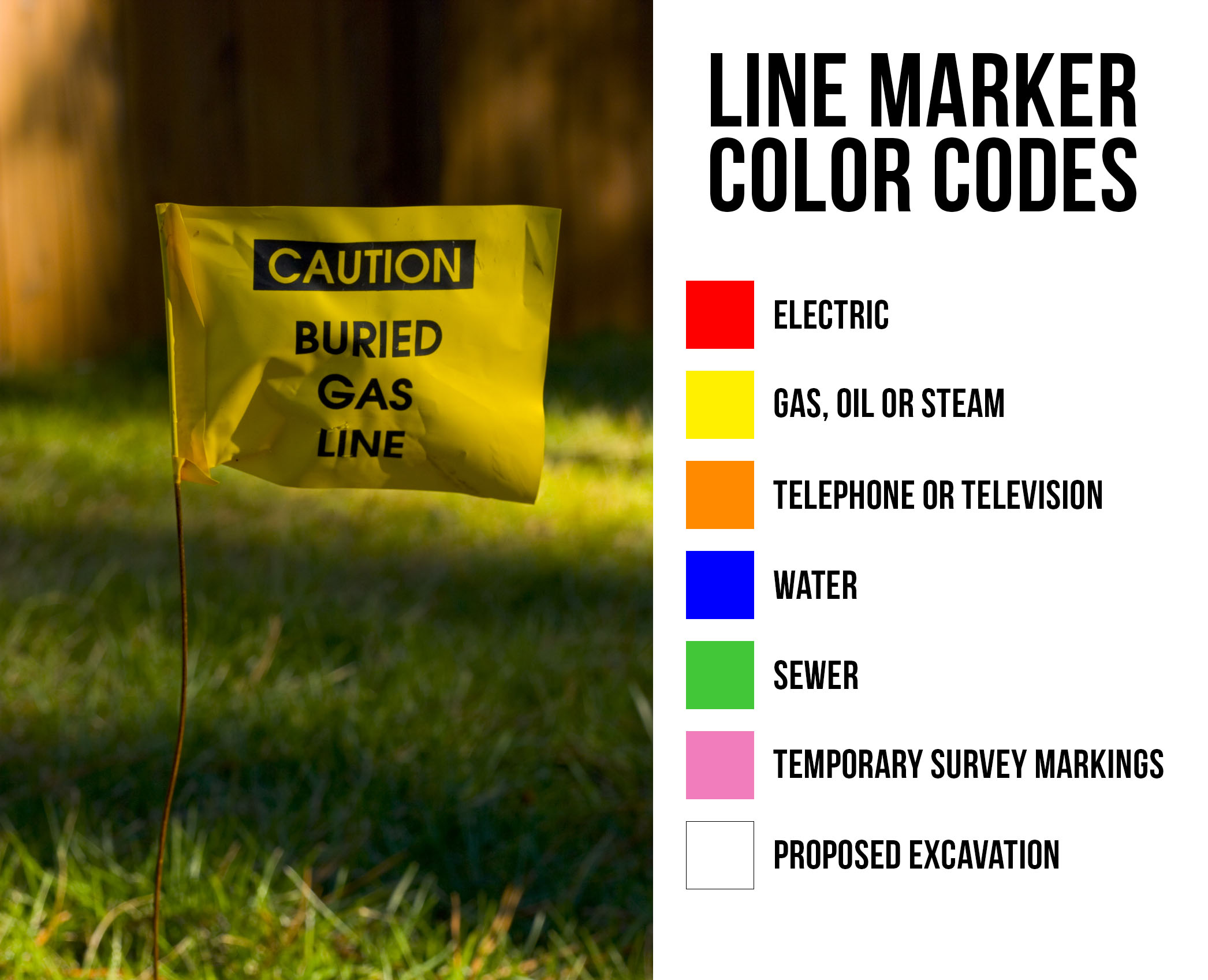 It's All About Your Safety
Avoid planting trees or large shrubs within three feet of your gas meter when planning outdoor projects. As the tree grows, it can exert forces on your meter setting which could result in damage to the natural gas pipeline.

You can help enforce safety laws, by shutting down any contractors you are using who do not use the Texas 811 system.
The contractor or excavator that is performing the work is required to call 811 before starting their job. If your contractor starts digging before you see any paint or flags in your yard, ask them to stop until they've called 811.
By stopping the excavation work, you will avoid potential safety risks and protect your property by preventing damage to natural gas, electric, water and communication utilities.
Click here to view our current Safety Brochure.